George MacDonald fooled me. I read both The Princess and the Goblin and the sequel The Princess and Curdie, thinking that they were just stories. It wasn't until I was an adult, and I re-read them that I realized that these books aren't just tales.
They're devotionals.
If I could put into practice and fully understand just one sentence, then I would be a better person. But maybe I shouldn't be surprised about it. The greatest teacher of all time, Jesus, told simple stories that we could understand and remember.
So what are these gems that George MacDonald scatters throughout The Princess and Curdie that leaves me breathless with its simplicity and depth?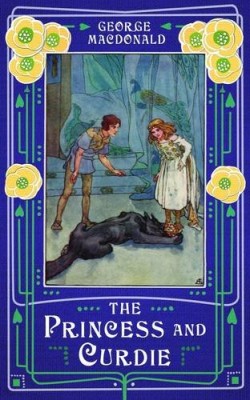 First of all, you must know that the story continues when Curdie is much older. Princess Irene now lives with her father in the capital city to keep her out of danger. Little do they know, danger surrounds them, and they become trapped by those who hunger for the crown. Curdie falls into the routine of work and daily life and, having no one to talk to about Irene's Great-great grandmother, drifts farther and farther away from what is good.
And in this setting, George MacDonald weaves a tale you will never forget while dropping wisdom in for us in a gentle and treasured manner. See for yourself.
When Curdie kills a pigeon belonging to Irene's Great-great grandmother (who portrays God):
"He had stopped saving, and had begun killing! What had he been sent into the world for? Surely not to be a death to its joy and loveliness. He had done the thing that was contrary to gladness; he was a destroyer! He was not the Curdie he had meant to be!" (page 23)
When Curdie sees what he's done wrong:
"I was doing the wrong of never wanting or trying to better. And now I see that I have been letting things go as they would for a long time. Whatever came into my head I did and whatever didn't come into my head I didn't do." (page 31)
Grandmother's command regarding herself:
"If you should hear anyone speak about me, never to laugh or make fun of me." And she continues to say, "Only to hold your tongue, and not seem to side with them." (page 32)
When tested on Grandmother's request while surrounded by many who mock her:
Curdie said, "It would be better that he who says anything about her should be quite sure it is true, lest she should hear him, and not like to be slandered."

He continues to say… "If bad things were true of her, and I knew it, I would not hesitate to say them, for I will never give in to being afraid of anything that's bad. I suspect that the things they tell, however, if we knew all about them, would turn out to have nothing but good in them; and I won't say a word more for fear I should say something that mightn't be to her mind." (page 43)
Grandmother's words to Peter, Crudie's father
"Things come to the poor that can't get in at the door of the rich… It is a great privilege to be poor." (page 51)
Grandmother to Curdie:
"You may ask me as many as you please-that is, as long as they are sensible. Only I may take a few thousand years to answer some of them." (page 52)
When Curdie asks for a sign to always know Grandmother:
Grandmother says, "No, Curdie, that would be to keep you from knowing me. You must know me in quite another way from that. It would not be the least use to you or me either if I were to make you know me in that way. It would be no better than if I were to take this emerald out of my crown and give it to you to take home with you, and you were to call it me, and talk to it as if it heard and saw and loved you. … No; you must do what you can to know me, and if you do, you will." Page 54
And my favorite of the whole book right now is when Grandmother is preparing to send Curdie into danger….
"Now, Curdie, are you ready?" she (Grandmother) said.

"Yes, ma'am," answered Curdie.

"You do not know what for."

"You do, ma'am. That is enough." (page 53)
How I long for that simple faith to say, "God, I don't know what You are calling me to do. But You do. And that is enough.
Which quote speaks to you the most? Why?
Want to learn more about George MacDonald?
Read An Introduction to George MacDonald: His Faith-Filled Fantasy, Fiction, and Fairy Tales
and find out about Reviving the Work of George MacDonald over at Kindred Grace.