Frozen: A Tale of Sorcery or Ability?
Even though I devour fantasy and action novels, I have to admit that every once in a while (okay, more often than I care to admit), I like a good Disney movie filled with romance and great music. I haven't cared for the newer movies, but then Frozen came along. It surprised me with its humor, awesome twists, and a great moral lesson.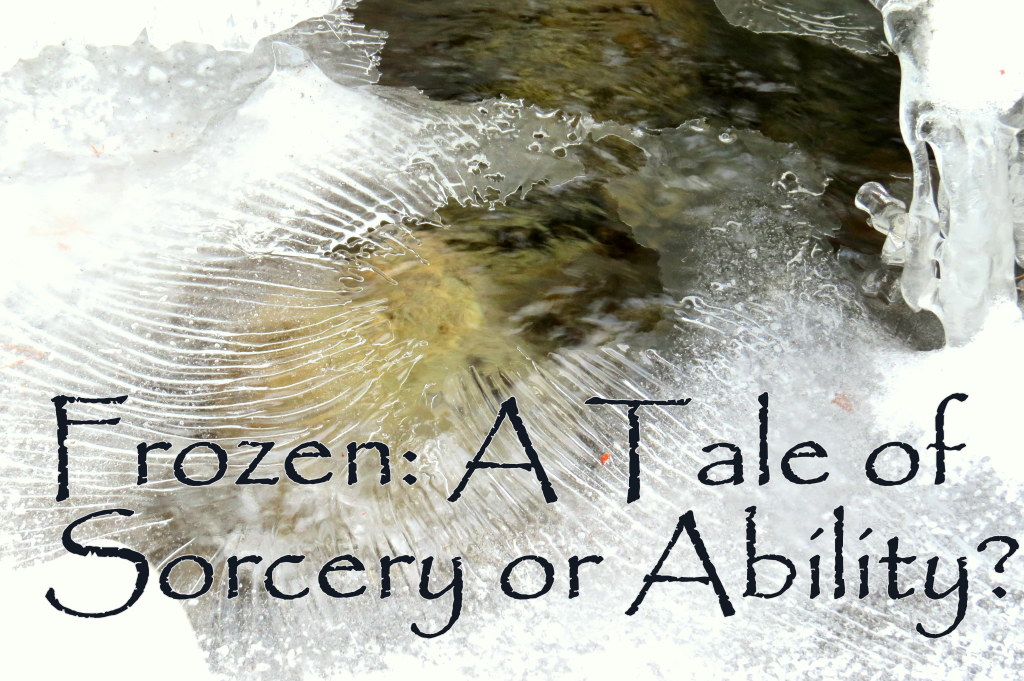 However enjoyable, it still needs to be evaluated. Is Frozen a movie Christians should be watching? Should we allow our children to be watching it?
This is the first installment of a short series I am doing on Frozen. (If you haven't seen it, I will be talking about a lot of spoilers, so go away and do some homework by watching the movie and then come back! I don't want to ruin your surprise.)
Of course, Frozen is a movie with magic in it. That doesn't mean it's automatically bad. Even the Bible has magic. Elsa can change ice and snow at will, but is this really magic?
Elsa: Sorcerer or Talented?
The story starts with Elsa having the power to create winter. When they visit the trolls, we find out that Elsa was born with this ability. So, here's my question.
Is Elsa's ability to create snow and ice really magic?
Yes, Anna asks her to "do the magic." But we all say that Disney World is a magical place. When we charm someone, we say that we "worked our magic."
What is magic?
One definition of magic is "the power of apparently influencing the course of events by using mysterious or supernatural forces." Webster says that magic is "the use of means (as charms or spells) believed to have supernatural power over natural forces" or "an extraordinary power or influence seemingly from a supernatural source."
Magic is a method of using words and items to make a supernatural force do what you want. I believe this is why God finds it so offensive. When we pray, we ask God for His miracles and trust that His plans are better, whether we get our requests or not. The use of magic is essentially saying, "I know best. I know better than God. I want this. Now give it to me." Magic is rooted back to the very first sin of Adam and Eve.
But let's go back to Elsa. She was born with this ability. Sure, she had to learn how to use it. However, it was part of her. She's not asking some spirit to give her the power. Like Beethoven on the piano, Tiger Woods on a golf course, and Einstein in his lab, Elsa is merely doing what comes natural to her.
Is Elsa using magic?
I have to say that she isn't employing magic. She is using a talent within her. We could argue how she got that talent and we may not understand it, but as far as the story shows, she isn't commanding evil spirits to get what she wants. The movie never shows any scenes of her with bubbling pots and potions. (I understand this is a bit stereotypical, but you get the point.)
In fact, I would even argue that she doesn't even want this ability. She never says this, but I believe she just wants to be normal. She's hurt that she can't live as others do. She misses Anna but lives in fear that she'll harm her sister again. She's upset that Anna wants to get married because she never can. And she flees the castle partly because she knows she could hurt her people or her country.
Yes, we see the joy of Elsa finally free to experiment with what she can do during the song "Let It Go." But, in her own words, when Anna confronts her in the ice castle, she says, "I'm such a Fool! I can't be free! No escape from the storm inside of me! I can't control the curse!" Then her attention turns back to Anna, and she says to her sister, "You're not safe here."
Fear of what she could do wraps Elsa up like a thick coat, but it brings no warmth. And yet through this fear, she thinks of the safety of Anna. We read much about the love Anna has for Elsa, but the love is returned just as strongly.
Stick around! I have a little more to say about the magic in Frozen in the next post, but until then…
Do you think Elsa is using magic? Do you think it's wrong to have magic in a story? Do you think Elsa thinks her ability is horrible or cool?